Welcome To The
Bubblegum Crisis Fan Fiction Guide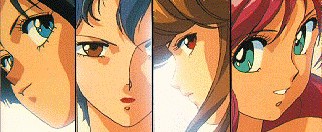 and
Dirty Pair Fan Fiction Guide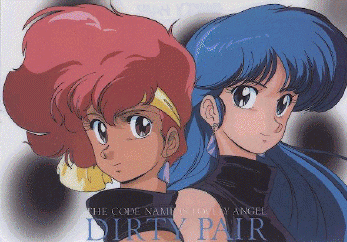 and
Ranma 1/2 Fan Fiction Guide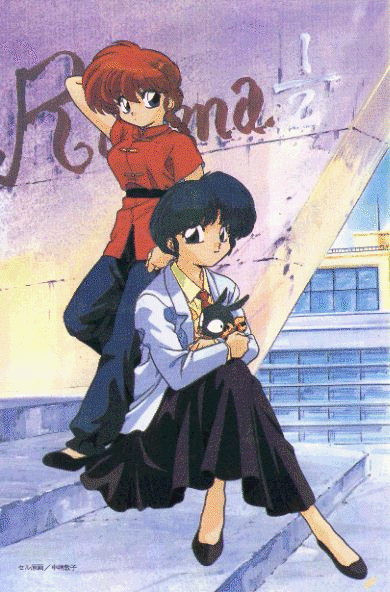 The Bubblegum Crisis and Dirty Pair guides were created by Craig Wigda and proof read by Mike Paff.
---
UPDATE Apr 21 2013: Cleaned up the layout a bit, deleted dead links and fixed the Ranma Fanfic Guide to point to archived site at Waybacmachine and added the text-only version of the Ranma Fanfic Guide from Sept 2005 to ravensgarage (click here to see link below)
UPDATE FEB 2009: Craig Wigda emailed me in February. Heres what he had to say: Thanks for saving the BGC Guide. It was originally hosted on my friend's web site (Mike Paff, the editor). Since real life has sort of jumped on me I've not really had a chance to update the guide, so I sort of forgot about it. Any way my friend Mike switched Network Providers and we did not even think about the web page when he did that. Any way Mike saw your post and while it was on his web page I wrote it so he forwarded your email. I do have a updated (which is now out of date) guide I was working on but I don't remember which computer (and where on the disk) the guide was. You have permission to host the guide as you wish. If you want to change the guide that is also up to you as I trust you from your postings and your web page. If other people contribute to the guide (new reviews) that would be OK as well. I was doing all of the reviews when I had time but that is rather hard to come by now. Having others provide reviews sounded easy but I was getting authors that reviewed their own stories and they were either to hard or to easy on them self (so I did all of the reviews). Any way the guide can be hosted as you see fit. We can work out details on how updates are to be done (which I know really needs to be done) ~ Craig Wigda
UPDATE JAN 25 2009: The original link for the BGC Fanfic Guide by Craig Wigda has gone 404. I have attempted to email Craig at the last known email address I could find to find out what happened but I have not yet received a response. So, after what happened with Michael Ko's Megatokyo Map website, I grabbed a copy of the BGC Fanfic Guide site from the waybackmachine and saved it to my hard drive. Though it is out-dated now, I think the Guide is still a significant source of information to BGC Fanfic fans and definitely worth saving, so I've tweaked the look of main page a bit to make it a bit easier to navigate, and I also fixed the FTP links to point to the correct FTP server at R.A.A.C., and given the Guide a temporary home here at ravensgarage.com so that it is still available while I try to contact Craig to get his permission to host the Guide here permanently. If anyone knows how to reach Craig, or if you know where Craig may have moved the Guide, please e-mail me and let me know - Andy Skuse aka Dr Raven
The Ranma 1/2 Guide was created by Richard Rodway.
---



The Bubblegum Crisis Fanfic Guide by Craig Wigda




Links to some Bubblegum Crisis/Crash and AD Police Files pages
AnimEigo "Bubblegum Crisis & Crash, ADPolice Files"
Bubblegum Crisis Synopsis Index
Bubblegum Crash Synopsis Index
Bubblegum Crisis Links of Links
Rec.Arts.Anime.Creative Archive Site
Anime Web Turnpike - Bubblegum Crisis
Anime Web Turnpike - AD Police
---
The Dirty Pair Fanfic Guide by Craig Wigda
Links to some Dirty Pair pages
AD Vision Main Page - Seller of "The Original Dirty Pair" OVAs
Rec.Arts.Anime.Creative Archive Site
Anime Web Turnpike - Dirty Pair

---
The Ranma 1/2 Fanfiction Guide
UPDATE Apr 21 2013: The original Ranma Fanfic Guide by Rakhal Stormwarden was discontinued in late 2005 and the website shut down. The links below for tha Ranma Guide stopped working at that time as well and my intention was originally just to save the BGC Fanfic Guide above anyway, but I just did a search on the Waybackmachine website and found an archive of the Ranma Fanfic Guide website. You can visit the archive site at the link below. But I grabbed the text-only version of the guide at it's last incarnation of Version 1.103 dated 19th September 2005 and it is now archived at ravensgarage.com at the link below. Hope this helps someone in their search through the past! - Dr. Raven


Links to some Ranma 1/2 pages
VIZ Communications Main Page "Seller of Ranma 1/2 Manga and Videos"
December 6, 1995 Ranma 1/2 Fan Fiction Guide
Rec.Arts.Anime.Creative Archive Site
Anime Web Turnpike - Ranma 1/2
---
BACK to ravensgarage.com